Comments from Innerhofer and Fill after SuperG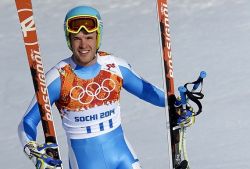 Comments after SuperG. Christof Innerhofer on his mistake: "I thought I could make up a lot of time in that turn at the top, but my plan backfired because it's steep and slippery. Everyday is not a Sunday, even though today is Sunday".
Peter Fill On his performance: "It was not a perfect run and I made some mistakes - I don't think it was enough". On the conditions of the track: "It's very warm and the snow is very slippery. It's not easy to find the right line and there are a lot of bumps."