Snowboard, Moioli's bad luck: falls in final, breaks cruciate ligament up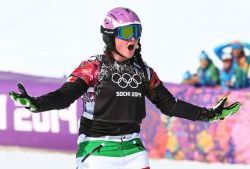 She had almost made it and had entertained the dream of getting to the podium in her first participation to the Olympics. Michela Moioli surrendered in the last trait of snowboard cross final (finishing in 6th place), after hurting badly her left knee.
Examinations she has been subject to at a specialised clinical site situated inside the Olympic Village have highlighted the cruciate ligament break-up. In the next hours, the Italian athlete is due to return to Italy where she will undergo an operation.