Italian PM Enrico Letta at the Italy House - "It's just wonderful being here standing beside our athletes, we are on the front lines in the fight against discrimination"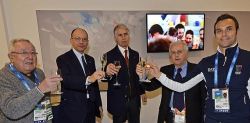 "I'm at home here." A warm smile and a handshake with each person. No formalities, just the desire to share these highly emotional moments. The Premier, Enrico Letta had supper at the Italy House in the Adler District, after the opening ceremonies of the Sochi Olympic Games.
"I was so very moved seeing our team entering in the parade and being cheered by the entire world. It is right that our athletes can feel the participation of the whole country, which I am here representing. I am also here to defend human rights in the fight against discrimination, and I agree whole-heartedly with Ban Ki Moon's words. Italy is a standard-bearer in the fight against discrimination. The words of President Bach, who was an Olympic champion, embody the meaning that unites all of the athletes here. This is the message I wanted to convey, here among our young men and women, who have all made great sacrifices to come here to compete."